WE'VE GOT HISTORY
Get to know us a little bit better.
With over 20 years of Audio Visual Solutions, over 10 years of Data Center Services, and being one of the first companies to come to market with Managed IT & Cloud Services, amnet continues innovating and delivering our customers the experiences and products they deserve.
1995
1998
2000
2001
2003
2007
2008
2009
2010
2011
2014
2015
2016
2017

amnet Systems was founded as a voice & data networking service provider

Deployed numerous innovative solutions to protect data and telecom systems for year 2000 concerns

Built a colocation center (data center hosting) in Stamford, CT

Created amnet colocation centers to deliver both hosted colocation and managed services

Instituted first generation remote IT delivery platform based on Citrix and Microsoft technology

Developed a high definition video conferencing and unified audio/visual service offering to meet client demand for an easier way to collaborate between geographically dispersed teams

Built a multi-million dollar private cloud computing grid to meet demand for upcoming business cloud services

Launched cloud application delivery service, which forged service provider level partnership with VMware, Microsoft, Citrix and many others to deliver reliable, cost effective "per-user, per-month" alternatives to on premises alternatives

Launched amnet private cloud based business VoIP phone line

Powered by advanced technologies, like Msoft Lync and Vidyo to deliver the next level of cloud based unified communications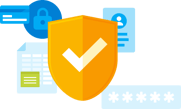 Delivered version 2 of the cloud based virtual desktop, to include a fully personalized desktop that can integrate and simplify connection to other public cloud services like Salesforce, Microsoft 365, Amazon and many others.
Launched NextGen version of business phone line & SIP trunking services with an innovative carrier agnostic network resiliency. This phone line service was launched as part of the amnet ClearCall service platform.

Launched NextGen version of hosted, private cloud business phone system. Includes modern mobile device integration and easy-to-use color VoIP phones that sync to your contacts and business apps.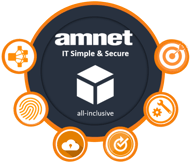 Leveraged years of experience with integrating business IT, unified communications and cyber security protection to launch IT Simple and Secure. ITSS offers businesses an all-inclusive, modern technology service platform that is simple and cost effective.